ACCUVISTA™ Postoperative Rod Strain Sensor


Each year, in the U.S. alone, more than 450,000 lumbar spinal surgeries are performed. Most are successful, but approximately one in four cases develop complications2. The use of standard post-operative clinical assessments and imaging technologies such as plain-film radiography and CT scans cannot definitively answer whether the spine successfully fused.2,3 The ACCUVISTA Postoperative Rod Strain Sensor is an implantable, passively powered (external inductive coupling) orthopaedic assessment aid to help assess sagittal plane rod strain following single-level posterior-instrumented lumbar fusion surgery. In conjunction with standard assessment techniques and technologies, surgeons can compare baseline rod strain levels to strain levels observed at various post-operative intervals. The ACCUVISTA™ Postoperative Rod Strain Sensor has the potential to compliment assessment gold standards of care with the possibility to reduce significant cost and radiation exposure in patients monitoring following initial fusion surgery.2,3



ACCUVISTA sensor placed medially on fusion rod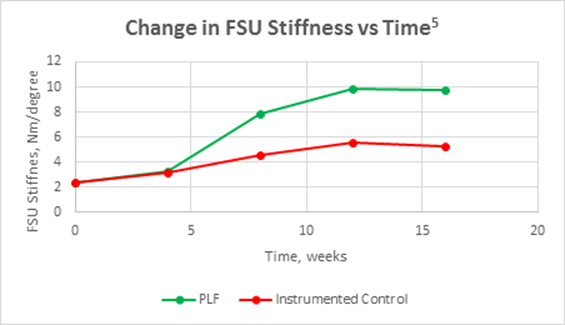 1 Spine Technology Summit, May 2011. Plant Moran Corporate Finance

2 Goldstein C., Drew B. When is a Spine Fused? Injury, Int. J. Care Injured. 42 2011: 306-313.

3 Gruskay J., Webb M., Grauer J. Methods of Evaluating Lumbar and Cervical Fusion. The Spine Journal. 14 2014: 531-539.

4 US Patents 7,357,037 7,302,858 7,509,870 7,854,174

5 Kanayama, M., Cunningham B., Weis J., Parker L., Kaneda K., McAfee P. Maturation of Posterolateral Fusion and its Effect on Load Sharing of Spinal Instrumentation. Journal of Bone and Joint Surgery. 1997: 1710-1720.

This is a development stage product and is not approved by the FDA for sale in the United States.