LOADPRO™ Intraoperative Rod Strain Sensor


Large spinal segment correction procedures (Scheuermann Kyphosis, thoracolumbar hyperkyphosis and kyphotic burst fracture reduction), require strategic pedicle screw placement and symmetrical spinal rod strain balancing for obtaining mechanical correction and maintaining rigid fixation for an optimum mechanical and biological environment such that fusion may occur (Kanayama, 1997). The consequences of semi-rigid fixation include incomplete biological fusion, altered construct load, pedicle screw loosening or fracture and rod breakage (Kanayama, 1997; Tsirikos, 2011; Jain, 2014). The LOADPRO™ Intraoperative Rod Strain Sensor is a passively powered (external inductive coupling), single use, disposable, orthopaedic assessment aid, for the intra-operative measurement of spinal rod strain values. Bilaterally placed LOADPRO™ Intraoperative Rod Strain Sensors measure spinal rod strain and simultaneously communicates left versus right rod strain asymmetry to an external reader during corrective surgical maneuvers.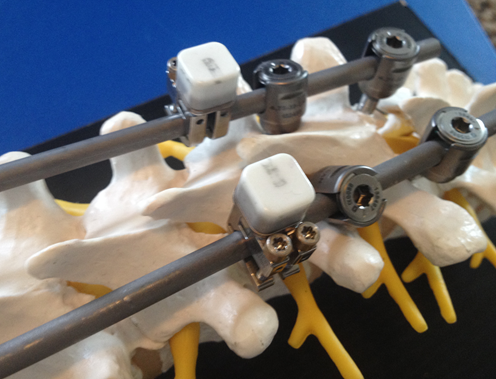 Pair of LOADPRO sensors on long construct spine model



This is a development stage product and is not approved by the FDA for sale in the United States.