News: Intellirod Spine Names Ric Navarro as New President and CEO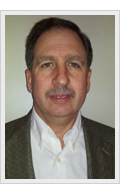 LOUISVILLE - Intellirod Spine Inc., a spinal implant diagnostic company focused on the assessment of spine fusion, announced today that Ric Navarro has joined the Company as its President and Chief Executive Officer. Mr. Navarro will also serve on the company's Board of Directors.

Mr. Navarro has over 25 years of medical device and implant experience in artificial hearts, wheelchairs, operating room equipment and spinal implants. Most recently he served as the VP and Site Manager for Integra LifeSciences spine division in Akron, Ohio. Prior to that he was in senior management at Theken Spine and was a co-founder and VP R&D; for Theken Disc, a company that developed the first lumbar artificial disc to incorporate microelectronics. In addition he has held senior engineering, quality, and operations roles with Integra, Biomec, Allen Medical Systems, AcroMed and the Cleveland Clinic.

"We are very excited to have Ric join Intellirod Spine to lead the company through its clinical development phase. Ric's experience in the orthopedics industry is a perfect fit with the product that is being developed by OrthoData," said George Emont, chairman of Intellirod Spine

"It is a great opportunity for me to join the Intellirod Spine founders and to develop this revolutionary micro-sensor technology that will change the way surgeons think about spine fusion postoperatively. The device is destined to reduce the cost of unnecessary exploratory surgeries and has the potential to return patients to their daily activities more quickly".

Mr. Navarro holds bachelors and masters degrees in Mechanical Engineering from the Ohio State University and an MBA from Baldwin-Wallace College. He is also an inventor on 21 patents and has commercialized numerous spine and operating room products.